At Frame21, we're of course very proud of the look and feel of our offices to which we have put a lot of effort. Besides our look and feel, we've also put a major effort into furnishing our beautiful buildings, each in their own unique style. The interior has to be both stylish and practical in order to keep the productivity of our residents as high as possible at all times.
We designed our interior together with Drisag. With expertise in design, ergonomics, soundproofing and furniture that increase productivity, we have created not only beautiful, but also very practical and productive office buildings. What makes this collaboration even more special for us is that Drisag manufactures all their furniture locally at our premises in Herentals!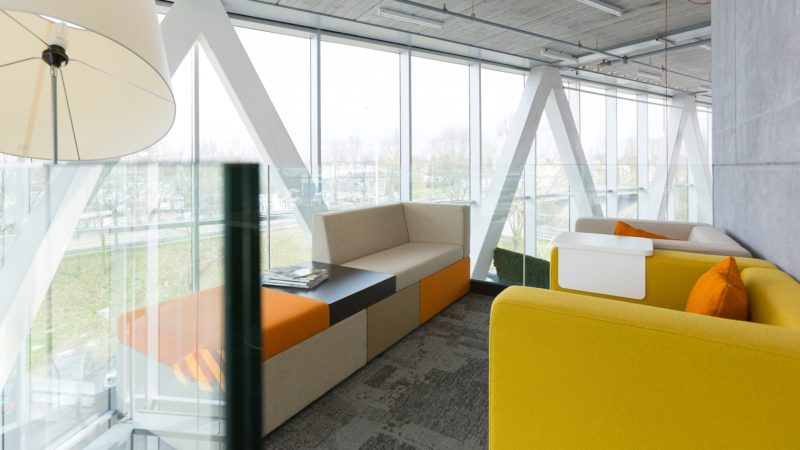 Accoustics
Acoustics serve to boost creativity and also to create a beautiful working environment. A beautiful office, furnished with acoustics in mind, makes everyone happy. Happy employees? That increases productivity and turnover.
Flex office
In today's world there is less and less demand for permanent office space. Renting a permanent building is expensive, as are the inventory and the fixed costs. Renting flex offices can save you a lot of money. Our flex offices are always equipped with the most modern technologies and facilities such as the right acoustics and ergonomics.
Don't need a fixed office space? Our flex-work places are always available when you need them! Still looking for a permanent office? That is also possible!
Ergonomics
Anyone who says ergonomics thinks of an ergonomic office chair, right? But nothing could be further from the truth; ergonomics goes much further than simply purchasing good, ergonomic office chairs. Your office chair is, of course, of great importance for a healthy and responsible working posture. But the whole layout of your workplace affects your working comfort and your health. Think, for example, of the height of your desk or your monitor, the position of your computer mouse and keyboard. It is also important that you maintain a healthy mix of sitting, standing and exercise. A few simple measures can often have a major effect.
Flex office
In addition to (classic) adjustable desks, we also have comfortable chairs and stools in all our Frame21 branches. And if you need to get moving or stretch your legs, you can always opt for a high table at which you can work standing up.