Whether you work in an office or have created a home office space at home: the layout of your office (building) is extremely important for your focus and productivity. That's why we share some tips from practice with you. Order in the workplace is peace in the mind.
Smart interior
There is no doubt that technology plays a major role in our lives and thus in the office and within our organisation. Offices need the right equipment to keep up with technological advances. Many companies now opt for a laptop instead of a desktop, giving their employees complete freedom to work anywhere. Especially in the time we live in now, our work has become 'portable', and offices need to adapt accordingly.
With a combination of smart and technological future-proof furnishing, you ensure that the productivity of yourself and your employees remains optimal. Anno 2021, more and more gadgets will be added to make our daily lives even easier. To give an example, you can draw the curtains from behind your desk or ask Siri to change the radio station. The biggest advantage of a 'smart' office interior: you're always connected.
And not unimportant, with for example a smart doorbell, smart smoke detectors, an automatic lock or security cameras that you can operate with your smartphone, you make room for an 'electronic management assistant'.
Invest in flex spaces
If you or your office worker need some quiet time to really focus on a task, it's handy if you can move to a quiet corner or a soundproofed meeting room to finish your task. Offering employees the freedom to move around is a great option to improve their health and motivate them to complete their tasks more efficiently. Flex offices are not only an emerging trend, they increase productivity by up to 30%!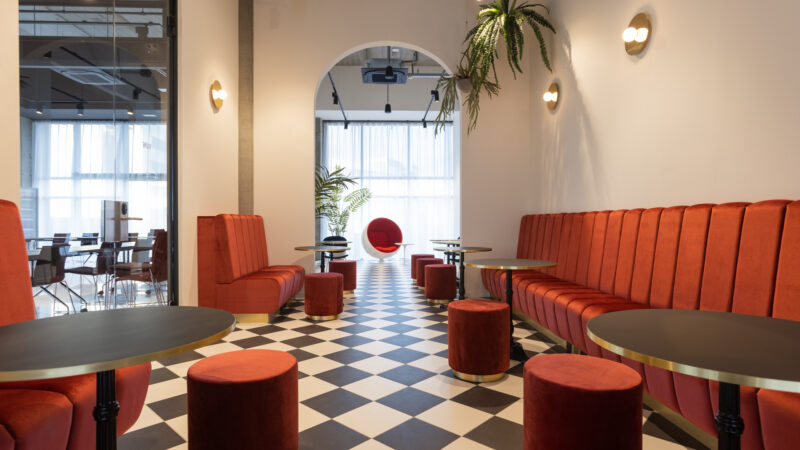 Keep moving
Make investments in your furniture, working in a seated position 8 hours a day behind an ill-fitting office chair can lead to various complaints. Therefore, you could invest in standing desks. By working in a standing position several hours a day, you not only break up the day, but it also increases your productivity and it is good for your health.
Colours
It's no secret that colour can influence people's moods on a daily basis. For example; a blue colour can help to calm where red can give a hint of energy. With our red accents inside our Frame21 Business Centres, you can guess which way we're going!
When it comes to the ideal work space, there's no right or wrong, but it's a fact that flex offices and 'smart' offices can significantly increase productivity!