Why flexibility is a must in the workplace
Research shows that employees are more productive, happier and more motivated when they are given more freedom to choose their workplace and use work spaces flexibly. Flexible working, co-working and teleworking are the future. Many employees have come to realise that flexibility is a must when choosing their employer.
A flexible solution goes beyond a co-working space
But what exactly is meant by a flexible workplace? It is a place where the employee (partly) determines where and when he works. This can be in the form of a co-working space (a place where people from different companies work together in the same space), but flexible working also means that you are flexible within a fixed office with the space that is available.
Offer your employees a quiet space, but also a space where they can hold video calls, a brainstorming space, and a few fixed meeting rooms. Provide fixed workstations for those who like regularity and flexible desks for those who like to change.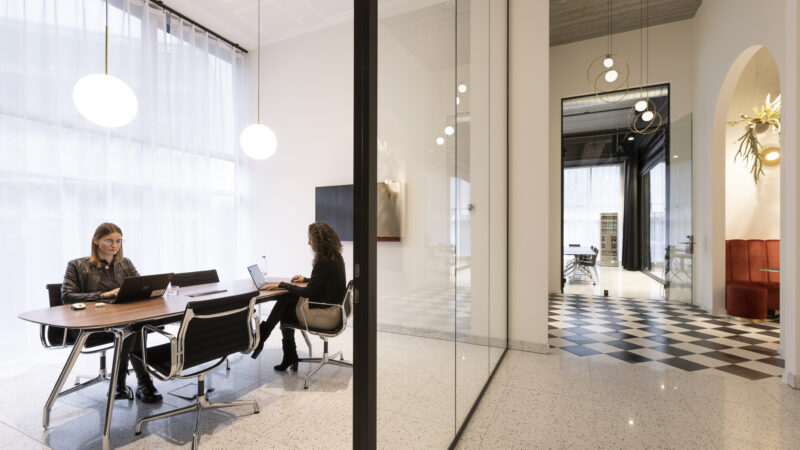 The combination formula of Frame21, Shape your office is the solution if you want more variety in your work. You can enjoy different options and benefits in one package. For example, you can combine the following formulas if you wish: Full-service office, Co-working and Virtual office. Check out our options here!
Benefits of flexible working
Flexible working also has financial benefits. With flexible working solutions, you only pay for the services you actually use. And so you don't have to rent a permanent office on a long-term basis that might be empty half the time. For example, if you have an event or meeting in mind but can't get your employees together? A flexible working environment goes beyond just the physical office. For example, in this case, you can make it a digital event by streaming your meeting. In short, the flexible possibilities are endless.
At Frame21 you can stream your digital meeting from one of our conference rooms / event spaces. In this way, the guests can follow from a distance while you present from a beautiful location where all the technical support and material is provided for you.
Flexibility boosts creativity
Flexibility in the workplace can lead to a boost in creativity and a strengthening of team spirit. In general, this leads to a mental calm among the employees and motivation to perform well.
Frame21 ensures that you can express your creative ideas in a creative environment. If you want to work in a quiet and original place, you can find it at our two locations in Brussels and Herentals. Our location in Brussels is surrounded by a green and lively park & ​​the location in Herentals has one of the most creative workplaces you can find in The Garage.