Organising a successful event in 6 steps
Do you want to organise a workshop, reception or other corporate event in the near future, but don't know where to start? Don't panic! We share 6 practical tips to make your event a success!
1.Professional venue
When choosing a venue, there are several things to consider. First, capacity is an important factor. You decide how many guests you are going to host and how you want to welcome them. Looking for a reception area with standing tables, for example? A second important factor during your search for a venue is accessibility. Make sure your venue can be easily reached and found by all your guests. The availability of enough parking space, for example, is also very important.
 Make a list of your requirements: Make a list of the specific requirements for your event, such as capacity, set-up, facilities, accessibility and parking. This will help you select the right venues to investigate.
Search online: Use websites and platforms offering event venues to explore a wide range of options. Filter the results based on your requirements and view photos, descriptions and reviews of potential venues.
Visit the venues: Make a shortlist of the venues that meet your criteria and plan a visit. This gives you the opportunity to see the rooms in person, evaluate the facilities and ask questions to the venue staff. Some websites also provide virtual tours, then you don't have to take time off to visit locally.
2. Prepare a detailed timeline
During your corporate event, it is very important to have clear planning for both your guests and the organisation. Therefore, draw up a detailed timeline and add the planned activities. Strict adherence to this schedule is a sign of professionalism and will contribute to the success of your event.
3. Indulge your guests with excellent catering
An attractive offer of tasty snacks and drinks or even a whole buffet will make your event unforgettable for your guests. If your event takes place throughout the day, provide a light lunch, such as a salad or sandwiches to keep attendees' energy levels optimal. Also, don't forget to take into account people who are on a diet or have allergies, you can ask this in advance, this way your guests will feel heard. We provide snacks and meals according to your wishes and taking into account your guests' diets and allergies.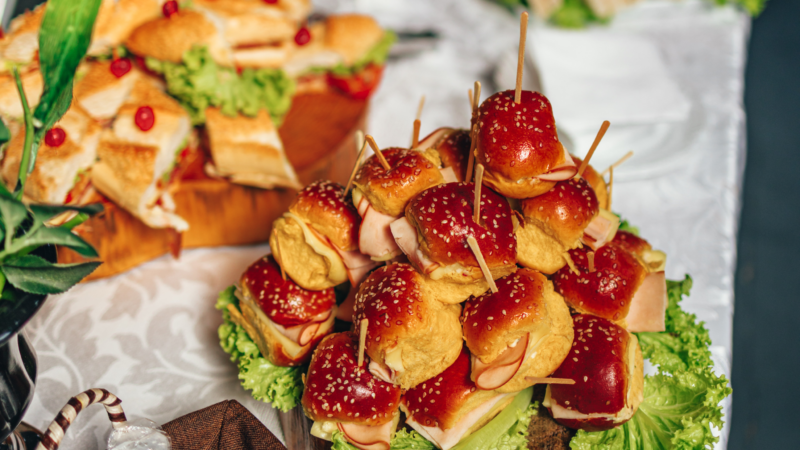 4. Provide technical support
For your event programme to run smoothly, access to various technical facilities is often essential. For example, if you are giving a presentation, you need to equipment to make projections. It is advisable to test the installation before the event so that everything is ready for the audience. In addition, a stable internet connection is indispensable during a corporate event. And share the WiFi password with your guests at the beginning of the event, this way they are more likely to make a post on social media about your event.
5. Facilitate networking opportunities
At a corporate event, it is always an added bonus if you get the chance to get to know the other guests. By connecting your guests, they can make interesting contacts, inspire each other and exchange ideas. Therefore, give your invitees time and space to do this during a break, lunch or after the event. Is there no time for this? You can also solve this by splitting
the group into smaller groups of people who don't know each other during interactive tasks.
 Create a comfortable environment: Provide a space where people feel comfortable and can talk easily. Provide adequate seating, standing tables and space to move around. Avoid loud background noise that can disrupt conversations.
Organise targeted group activities: Plan activities that bring people together in smaller groups. This could be, for example, a discussion group, a workshop or an interactive assignment. Putting people in a more structured environment encourages them to talk to each other and exchange ideas.
Connect people with common interests: Identify common interests, backgrounds, sectors or experiences of participants and connect people based on these similarities. This facilitates conversation and makes it easier for people to find a connection.
6. Take advantage of our summer discount!
Are you ready to make your next event an unforgettable success? Be sure to contact us today and find out how our professional venues and comprehensive services can help you organise the perfect event - now at a discount! During the summer months, you will enjoy a 21% discount on meetings and events in all our Business & Event centres. Read all terms and conditions here.
Do you have any questions about organising an event or would you like more information about our available venues? Contact us now!